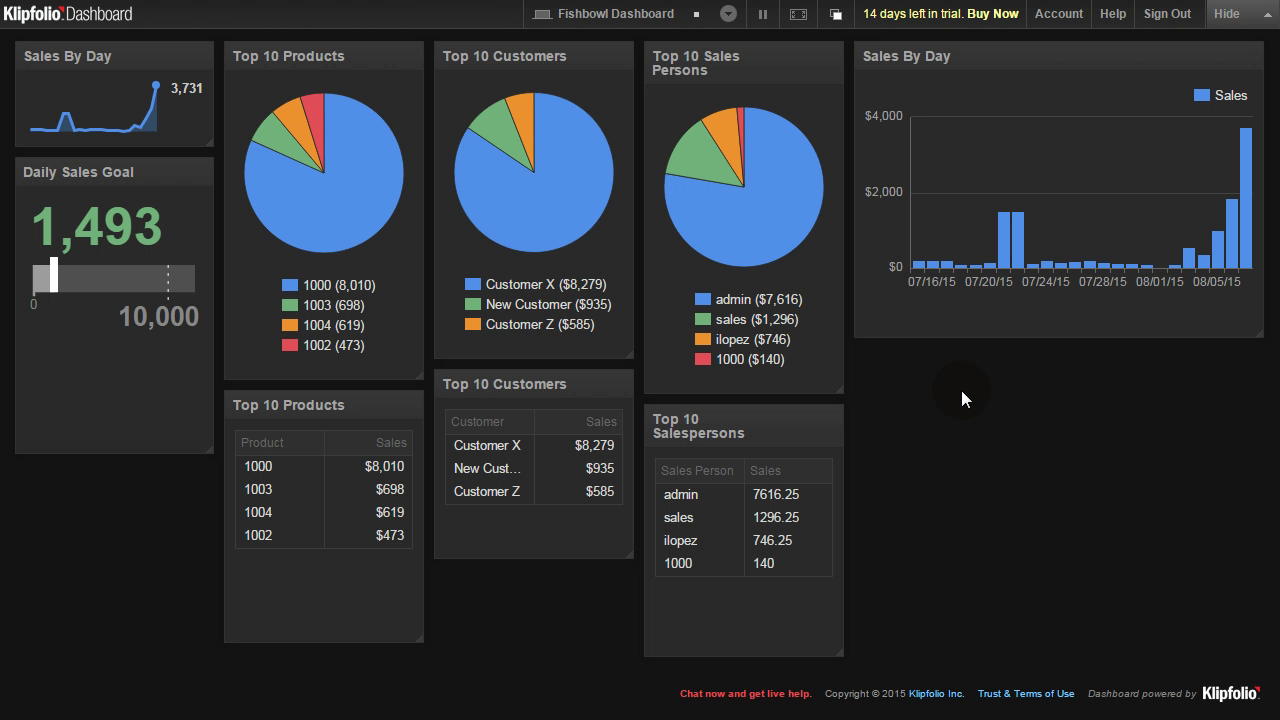 Business Dashboards for Fishbowl
Every business needs a dashboard, if not how do you run your business? Are you manually asking your Controller to run reports? Your purchasing manager or your sales director for the daily sales number? Want that information on the go? A lot of my customers want a dashboard, but they werent sure how to get it.
I have a solution. Klipfolio.
Klipfolio is a Business Dashboard platform in the cloud.
How it works

Klipfolio operates like a webpage with visualizations created from data. This data can come from Google Analytics, Twitter, and over 50+ Online data sources, plus databases such as Fishbowl Inventory.
How much does it cost?
Klipfolio is cheap, less than Starbucks cheap *. As of this writing standard users are $20/user/month. You do need help to setup the infrastructure for Klipfolio to connect, but that takes less than one hour. There is a "startup" cost with building dashboards, but they helpfully have a library of online videos on how to do many of the popular visualizations.  Custom solutions may require the help of consultants.
* – If you spend $5/day on Starbucks
What does it look like?
Below is a quick informal demo on a Windows Computer.
[embedyt]https://www.youtube.com/watch?v=568RgtTiuVM[/embedyt]
Also, what it would look like on an Retina iPad
[embedyt]https://www.youtube.com/watch?v=NdAt2GiYxDc[/embedyt]
How can I get this?
Give us a shout on our contact page or via our telephone number. We would be happy to setup an implementation plan and scope to get this going.